Rita J. Marsh-Vice-President/Programs, Prairie Roots Magazine & Newsletter Editor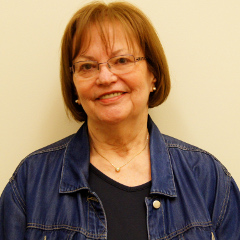 Starting at about age of 12, Rita created calendars giving them away to family members  listing birthdays and anniversaries of all the grandparents, aunts, uncles, and cousins.  Looking back she thinks that was probably her first steps into genealogy.  Rita has worked with Family Tree Maker since its beginning, finding over 2500 ancestors.  After 30+ years she (sadly) is still unable to get past her great-great maternal grandfather.  Anyone have a SIGAFUS in their tree?
Since retiring as a freelance graphic designer, Rita and her husband (who is also hooked on genealogy) enjoy traveling the country stomping through cemeteries looking for ancestors.
Rita has been a member of PCGS since the Fall of 2008. Her leadership positions include Newsletter Editor, Vice President/Program chair since 2009 and Prairie Roots magazine Editor since 2011. Rita is also busy preparing publications for the new website; she is a member of the website committee, and assists with much of the behind the scene work of PCGS.