Boland Mortuary Index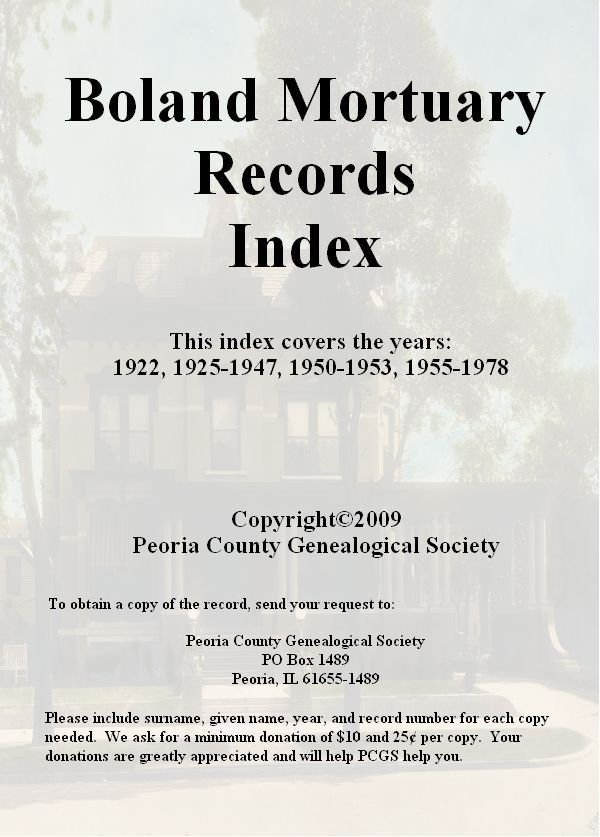 Index key: last name, first name, box # and record #
A-B  C-D  E-G  H-J  K-L  M  N-R  S  T-Z
(Search PDFs when open using Ctrl-F [PC] or Command-F [Mac])
When the J.T. Boland Mortuary closed in 1979, the owner, Mrs. Marie Hart Ryan, donated the records to the Peoria Public Library. The records sat in storage until February 2008 when the Peoria County Genealogical Society volunteers began the preservation process and the indexing of the documents. PCGS and all who use these records owe a debt of gratitude to Mrs. Marie Ryan for entrusting PCGS with these records and to her daughter, Mary Ann Ryan O'Connor for saving the history and photographs. The Boland Records span the years 1922-1978 but are not complete, with gaps within years and some missing years. 
Many volunteers contributed to this project: Lori Ingersoll, Project Director, Barb Brenner, Corinne Biersdorff, Carol Brockway, Martha Groeper, Becky Leucht, Karen Madvig, Donna Pond, Patricia Powers, Sue Swanson, & Laraine Weasels. Many thanks to Alice Brophy who indexed these records. 
Peoria County Genealogical Society
All rights reserved.  Printed in the United States of America.  No part of this index may be used or reproduced for any purpose other than your own personal use.
This index is provided without warranty of any kind, either expressed or implied, respecting the contents of this information.  Every effort is made to insure accuracy.  No liability is accepted for any damage directly or indirectly caused by this index or the information herein.